These photos were taken on June 22th and 23th on a trip to hike San Luis peak in Colorado. Several people had cameras, and the photos are assembled here.

Here's the topo-map of the area with the the ``trails'' we hiked marked: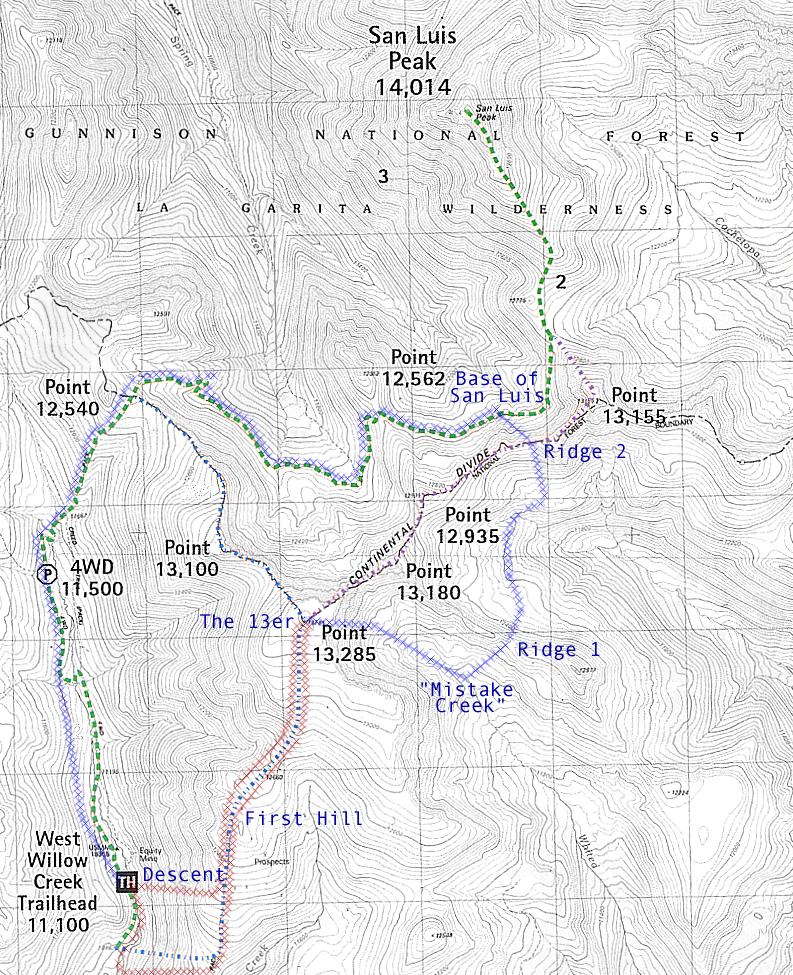 The green squares is a class 1 trail and is the one we should have taken if we actually wanted to reach San Luis. The blue squares is a class 2 trail, and the purple squares is a class 3 trail.
Being the brave souls we are, we thought we'd take the more difficult route that lets you hit three 13ers on the way (Class 2 and Class 3). As a group we headed south from the Willow Creek/Equity Mine trail-head, then west and north (Marked in red X's). We stopped at the first flat area for a water and food break, then pressed on to the first 13er in our planned route. At that point, Aaron, Eric, and Scott ran off to try and make the summit of San Luis (their trail marked in blue X's), while everyone else came to their senses and turned around (still red X's). The worst they had to do was a fairly steep descent to return to the trail head.
The three who kept going made a fatal mistake; they went too far to the south-west and down a sheer scree slope rather that finding the continental divide trail. We didn't actually realize this until we hit the creek at the bottom of the canyon, at which point we turned north to get back on track.
We climbed back up to the top of the first ridge, descended into a valley, and then back up another ridge. At this point, we were all tired and just wanted to get back to the green trail and get the heck off the mountain. It was getting late, and clouds were building. We descended again, found the trail, and started the death march back to the trail-head. Eventually we made it back... the timer on my watch read 8 hours and 21 minutes since we left the trail-head. Ouch.
---
Photos with names like:
101* are Eric's photos
102* are Aaron's photos
DSC* are Josh Neil's photos
feng*: are Wu/Annette's photos.
??? are Gus's photos (don't have yet)
??? are Scott's photos (don't have yet)
This set of photos is of the whole group together
This set of photos is just Aaron, Eric, and Scott as we split off to head to San Luis
This set of photos is everybody else who came to their senses and turned around to go back at the first 13er
This set of photos is the re-united group, later that day